We are open Monday to Friday:
Monday 8am-5pm
Tuesday 8am-5.30pm
Wednesday 8am-5.30pm
Thursday 8.30am-5pm
Friday 8am-4pm
How Can We Help You?
At Brisbane Osteopathic Centre, we work with you to help decrease pain and improve mobility.
Our focus is to get you enjoying your life more. 
Our osteopaths are university educated, they have an in depth medical knowledge and always follow best evidence and best practices.
All 4 of our practitioners will work with you gently  – using no massage or manipulation.
Whether you want to move without pain, pick up your kids or grandkids, or play the sport you love or the hobby you enjoy. 
We believe it's better to work with you in a pain-free way so we don't aggravate your symptoms. We encourage your body's own healing abilities by gently balancing and realigning you.
We take an holistic approach, because when one part of your body isn't moving easily, other parts will be affected and need to compensate.
We Treat All Ages from Babies to the Elderly
Our osteopathic treatment allows us to treat the most fragile members of your family, including Babies and Seniors. We also thoroughly enjoy treating, and frequently see Children, Teenagers,  Pregnant Women and Adults.
We work with a broad range of complaints including headaches, neck pain, back pain, elbow or wrist injuries, sprained ankles and sore knees. We also investigate preventative measures, to keep you pain free for longer.
The ability to treat the patient gently means our team can work with you even if you are in severe pain or a little more fragile, because of this we regularly treat babies, pregnant women and the elderly.
For a more comprehensive list of what we treat have a browse through our Conditions
We consider you part of the Brisbane Osteopathic Centre family and your safety and care remain our highest priority.
We will continue to uphold both high clinical and sanitation standards.
These practices include:
Treatment tables being disinfected and wiped down before and after treatment.
We have plenty of room for social distacing in the reception area.
Having single-use and/or disposable items such as cups and wipes
Regular cleaning of all high touch areas with high grade disinfectant, including reception surfaces, door handles, and treatment areas
Availability of hand sanitizer.
Your Brisbane Osteopaths
Our team are very focused on helping all our patients achieve their goals. Moving well, living well and being pain free.
We have all undertaken further postgraduate courses and are continually learning so we can offer you the best treatment possible.
To become an osteopath we studied for five years at a university. This included anatomy and physiology, some pathology and radiology.
To work in a gentle way requires practice and mentorship, which we are dedicated to.  Our core team have all done post graduate courses in the biodynamic cranial approach phases 1-9 with Dr James Jealous, and we have also completed the treatment of children courses 1-3 with Dr Robyn Seamer and Dr Manuela Da Rin.
Each practitioner has completed further training in areas of interest as well as reading journal articles and research.
We are very happy to treat all patients who walk through our door, but each practitioner has different clinical interests. If you'd like to find the right osteopath to help with your complaint, click  Our Practitioners to find out more about us.
Located in Brisbane's Northside
We are located at 3 Cramond St, Wilston, an Inner Northside suburb of Brisbane, just off Newmarket Road. Our proximity to the northern exit for the Clem 7 tunnel makes us quite easy to access from the southside of Brisbane.
We are close to the Royal Brisbane Hospital, near Homezone Windsor. We are close to Officeworks Windsor. We have plenty of easy on-street parking available. Getting to us is easy with the Wilston train station and bus stops on Newmarket Road a short walk away. Click through to our Contact Us page to see a map.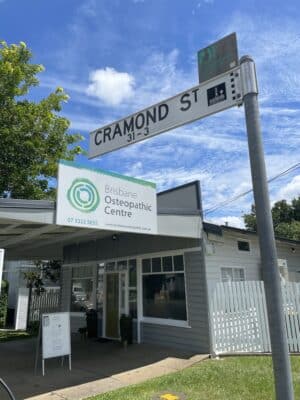 Long Opening Hours
Monday to Thursday 8:00am – 5pm
Friday 8:00am-3pm
Tuesday, Wednesday evenings till 5.30pm
No Referral Necessary
Private Health Cards Accepted – claims are processed on the spot.
Medicare Chronic Disease Management patients accepted. (NO Bulk Billing available)
DVA – White and Gold cards accepted.
Book now online or give our friendly reception staff a call on 3311 5655 or text/call us on 0480 148 081 between office hours 8.30am-5pm.


What is Cranial Osteopathy?
Cranial osteopathy it is the name given to a subtle approach to osteopathy, where the osteopaths use thier hands to feel changes of tension and stress in the body. The osteopath aims to diagnose areas of strain or dysfunction which are causing pain and then stimulate the area to a state of balance, there-by restoring it to health.
Osteopathy is a form of manual treatment for aches and pains. This means we use our hands to help you feel better. To do this we are looking at how your body is functioning. There might be a joint which isn't moving as it should, or a muscle that is too tight or too loose. We then work using our hands to normalise those movements.
Learn more