We Treat Aches and Pains All Over Your Body
At Brisbane Osteopathic Centre, we work with you to help decrease pain and improve mobility. All 5 of our practitioners use a very gentle balancing technique called Cranial Osteopathy to treat a broad range of complaints including headaches, neck pain, back pain, elbow or wrist injuries, sprained ankles and sore knees.
Our very low force approach allows us to treat very painful conditions such as acute neck pain or a newly sprained ankle because we don't need to move patients forcibly to improve their mobility or decrease their pain. We also investigate preventative measures, to keep you pain free for longer.
For a more comprehensive list of what we treat have a browse through our Conditions
Our Practitioners Are All Highly Experienced
Our fully qualified, registered and highly experienced osteopaths have completed 5 years of university study and gone on to do further training in the Cranial Field of Osteopathy – studying the Biodynamics methodology.
Our practitioners use the gentle approach of cranial osteopathy. Introduced until the final years of the undergraduate course our osteopaths have fine tuned their skills with hundreds of hours of post graduate training, around Australia and the World.
We have all trained in the Biodynamic Approach to cranial osteopathy as taught by James Jealous, and our core team have all completed Phase 1-9 and various other courses including the Treatment of Children Phases 1-3. Each practitioner has completed further training in areas of interest as well as reading journal articles and research.
We are all very happy to treat any patient who walks through our door, but we do have different clinical interests. If you'd like to find the right osteopath to help with your complaint, click through to Our Practitioners to find out more about us.
Located in Brisbane's Northside
We are located at 3 Cramond st, Wilston, an Inner Northside suburb of Brisbane, just off Newmarket Road. Our proximity to the northern exit for the tunnel makes us quite easy to access from the south side.
We are close to the Royal Brisbane Hospital, near Homezone Windsor. We have plenty of easy on-street parking available. Getting to us is easy with the Wilston train station and bus stops on Newmarket Road a short walk away. Click through to our Contact Us page to see a map.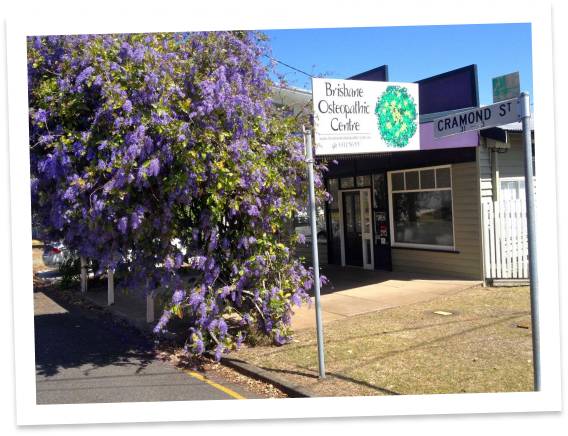 Long Opening Hours
Monday to Saturday 8:30am – 5pm
Tuesday evenings till 7.00pm
Saturdays till 2.30pm
No Referral Necessary
Private Health Cards Accepted
Book an appointment now online or give our friendly reception staff a call on 3311 5655 between office hours 8.30am-5pm.


What is Cranial Osteopathy?
Osteopathy is a form of manual treatment for aches and pains. This means we use our hands to help you feel better. To do this we are looking at how your body is functioning. There might be a joint which isn't moving as it should, or a muscle that is too tight or too loose. We then work using our hands to normalise those movements.
Learn more